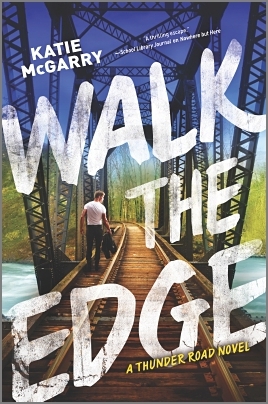 Walk the Edge
by Katie McGarr
y
Publisher:
Harlequin TEEN
Series:
Thunder Road #2
Genres:
YA, Romance, Contemporary
find this book on
goodreads | amazon
Rating:
One moment of recklessness will change their worlds.
Smart. Responsible. That's seventeen-year-old Breanna's role in her large family, and heaven forbid she put a toe out of line. Until one night of shockingly un-Breanna-like behavior puts her into a vicious cyber-bully's line of fire—and brings fellow senior Thomas "Razor" Turner into her life.
Razor lives for the Reign of Terror motorcycle club, and good girls like Breanna just don't belong. But when he learns she's being blackmailed over a compromising picture of the two of them—a picture that turns one unexpected and beautiful moment into ugliness—he knows it's time to step outside the rules.
And so they make a pact: he'll help her track down her blackmailer, and in return she'll help him seek answers to the mystery that's haunted him—one that not even his club brothers have been willing to discuss. But the more time they spend together, the more their feelings grow. And suddenly they're both walking the edge of discovering who they really are, what they want, and where they're going from here.
---
"The boy everyone sees but nobody knows is with the girl who everybody knows but nobody sees." (quote)
I LOVE THIS BOOK! I love this book as much as I love No-here But Here. All the books written by Katie McGarry (that I've read) are my some of my all time favorites. I have so much reason, so much love for this book.
I now can't imagine a life without the story of Breanna and Razor. I never wanted their story to stop, which was good, REALLY GOOD actually. It doesn't happen very frequently where I find a story that I'm attached to so much hat I imagine my own continuation of their story.
I'm very happy to say that my favorite part about this book was the relationship between Breanna and Razor and who they are as separate individuals. This relationship may have affected their hearts greatly (and mine), but they still have their own identity.
Whenever I put this book down, I couldn't wait until I could read it again. Every time I wasn't reading it, I was imagining what could happen next in the story.
Breanna and Razor are some of my favorite characters and while I am still a bit iffy about Violet and Chevy, I'm crossing my fingers that the third book would change my mind. Breanna and Razor are one of those characters with that lovable chemistry that makes you smile all the time without realizing it. They were amazingly characters apart, but together they are FIERCE and balance each other out.
While I was reading No-Where But Here, I never knew that I would love Razor's story as much as I do right now. For me, the tension between the pages, this new perspective about the motor cycle gang from the point of view that I read from in the first book.
I love the stories where they add in some humor from here and there, but there is an under story to everything that is going on. Something much deeper. And this was one of those books that brought out emotions in me, but also had the power to make me smile and laugh.
Walk the Edge
is story about love, fear, taking chances, and all of the above. I rate this book a complete 5 stars (with all of my love) and I highly recommend this romance/contemporary to all book lovers!
tell me: have you read any of Katie McGarry's books? did you read Walk the Edge?