Hope you enjoy!
---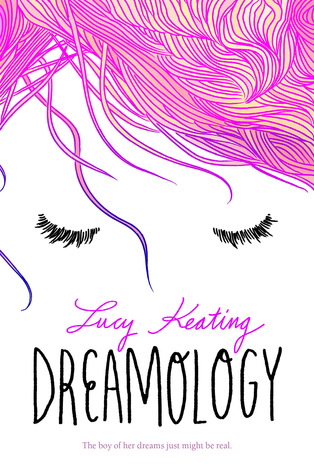 Dreamology
by Lucy Keating
Publisher:
Harper Teen
Series:
None
Genres:
YA, Contemporary, Romance, Fantasy
find this book on
goodreads | amazon
Rating:
For as long as Alice can remember, she has dreamed of Max. Together they have traveled the world and fallen deliriously, hopelessly in love. Max is the boy of her dreams—and only her dreams. Because he doesn't exist.
But when Alice walks into class on her first day at a new school, there he is. It turns out, though, that Real Max is nothing like Dream Max, and getting to know each other in reality isn't as perfect as Alice always hoped.
When their dreams start to bleed dangerously into their waking hours, the pair realize that they might have to put an end to a lifetime of dreaming about each other. But when you fall in love in your dreams, can reality ever be enough?
---
"There is something very primal about it, like we are prehistoric people and he went out and killed the bagel and brought it home to me." (quote)
The concept (dreams) was fantastic, the writing was superb, the characters were great, and the overall story foundation was beautifully written and well put together. Dreamology was just one of those books. The books that caught my attention right away and as soon as I laid my eyes on the title and the first few words of the blurb. No questions asked, no second thoughts, just "I HAVE TO HAVE THIS BOOK IN MY HANDS !!"
Alice was a very very unique individual and was very relatable. I actually really liked her a lot. I liked reading from her point of view. Maybe because she understood when she had to back down or when she needed to stand up and make a point. Her thoughts just reminded me a lot of myself and I saw myself smiling multiple times throughout the book.
Max on the other hand. I mean, who knows why Max does what he does most of the time? Yeah, I still liked him very much even though he was confusing and I still have some unanswered questions about what he really, in depth wants with his life. I just wanted to get to know him more from my point of view.
This book is mostly romance. Very cute, very adorable, and very feel-y. Mostly in dreams, but it gave a sense to make a point that real life isn't as easy as dreams. Their dream world was so different from their real life. But this doesn't mean that they couldn't/didn't make their real life just as cute, adorable, and feel-y as their dreams. Alice and Max were a fun couple to read about mostly because they were so different from other couples. I mean, they saw each other in their dreams for christ sake! They different circumstances than other people and it was interesting to read them learn and try to get past all of their differences that are holding them back from everything.
There was a lot of character growth in this story and I really appreciated that.
This was a quick read. Every page made me want more. It didn't take long before the whole book was done which is a
very
good thing. Not many books make me feel this way. This book made me very happy and I was smiling throughout the whole thing. I definitely recommend this
book and if you ever read it, I hope you enjoy it as much as I did.
---
Win a Dream Journal (US Only)