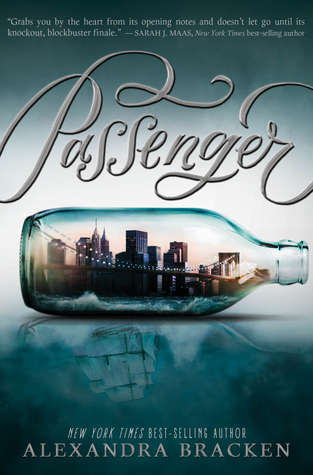 Passenger
by Alexandra Bracken
Publisher:
Disney-Hyperion
Series:
Passenger #1
Genres:
YA, Fantasy, Historical Fiction, Romance
find this book on
goodreads | amazon

Rating:
Passage
, n.
i. A brief section of music composed of a series of notes and flourishes.
ii. A journey by water; a voyage.
iii. The transition from one place to another, across space and time.
In one devastating night, violin prodigy Etta Spencer loses everything she knows and loves. Thrust into an unfamiliar world by a stranger with a dangerous agenda, Etta is certain of only one thing: she has traveled not just miles but years from home. And she's inherited a legacy she knows nothing about from a family whose existence she's never heard of. Until now.
Nicholas Carter is content with his life at sea, free from the Ironwoods—a powerful family in the colonies—and the servitude he's known at their hands. But with the arrival of an unusual passenger on his ship comes the insistent pull of the past that he can't escape and the family that won't let him go so easily. Now the Ironwoods are searching for a stolen object of untold value, one they believe only Etta, Nicholas' passenger, can find. In order to protect her, he must ensure she brings it back to them—whether she wants to or not.
Together, Etta and Nicholas embark on a perilous journey across centuries and continents, piecing together clues left behind by the traveler who will do anything to keep the object out of the Ironwoods' grasp. But as they get closer to the truth of their search, and the deadly game the Ironwoods are playing, treacherous forces threaten to separate Etta not only from Nicholas but from her path home... forever.
---
Etta: "So you'd keep me here against my will-"
Nicholas: "Know this pirate," he said, his hands gripping the railing, "you are my passenger, and I will be damned before I let any harm come to you." (quote)
I enjoyed this book. I really did. Other than the fact that it could get boring in some places and the writing pace was slow and a bit off, I liked the concept, I liked the characters, but I wasn't impressed with how the story played out on the pages.
I envision the world of TIMETRAVEL in my mind to be such a fun concept. There were so many different ways/roads I thought that the author could have taken to bring this story onto a whole new level. There was so much potential for more. The concept was great, the characters were great, the places were great, but the way they were put together as a whole? Yeah, not so great. It was slow and I thought some scenes were unnecessary to include.
Etta was one of those characters where I liked reading from her point of view and I liked switching out to read Nicholas's point of view (because his reactions to some things were on point). Both of them were great characters and I liked getting to know them over the span of the book. Etta plays a violin! A violin! Yay a character with a connection to music, double yay!
Etta and Nicholas. I thought they fit well together. I genuinely like them together. They just fit, but there was still so much about each other that they needed to learn and find out before they can actually say they know each other really well. Now that they've got the heavy things out of the way, they need to get the small things that make up a person out of their way too.
I liked Nicholas's honest curiosity for the future. It was one of the best things out of this book. It's these small details that made me happy. (reading from Etta's view) How she sees that he is stunned by the advancement of the civilization and so much that has changed. Or how much he didn't seem to like lemonade (that earned some smiles). It was one of thing that I looked forward to every time Etta would mention her own timeline. Nicholas being from the 1776 era, had the best reactions to modern-day life!
I was just.....disappointed, because I expected so much to come out of this book. I didn't set high expectations, but I expected to be "wowed". There wasn't anything that surprised me with the storyline. Don't get me wrong, I liked this book and liked my experience with it.
Nonetheless, Passenger is a story that you need to read. It may not be the best laid out one, but who doesn't like time travel? :)
tell me: did you read this book? do you want to? what do you think about time travel?