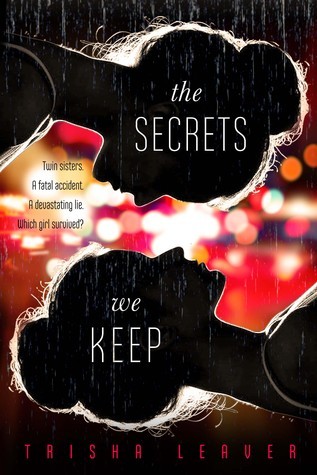 Title: The Secrets We Keep
Author: Trisha Leaver
Publisher:
Farrar, Straus and Giroux (BYR)
Genre: Young Adult, Contemporary, Mystery, Issue: Death, Romance
More:
Goodreads
A girl takes over her twin sister's identity in this emotionally charged page-turner about the complicated bond between sisters.
Ella and Maddy Lawton are identical twins. Ella has spent her high school years living in popular Maddy's shadows, but she has never been envious of Maddy. In fact, she's chosen the quiet, safe confines of her sketchbook over the constant battle for attention that has defined Maddy's world.
When—after a heated argument—Maddy and Ella get into a tragic accident that leaves her sister dead, Ella wakes up in the hospital surrounded by loved ones who believe she is Maddy. Feeling responsible for Maddy's death and everyone's grief, Ella makes a split-second decision to pretend to be Maddy. Soon, Ella realizes that Maddy's life was full of secrets. Caught in a web of lies, Ella is faced with two options—confess her deception or live her sister's life.

I
often associate books with real life. It changes my views on certain aspects and maybe, just maybe, it might impact a change in my feelings about the world and how things seem to work in their own ways.
When I picked up
The Secrets We Keep
, and read though a few chapter, I was already ready to explode. In anger, in frustration, in sadness. It was a powerful mix of all emotions lined up to attack. I would be lying if I said I completely connected with the main characters-Ella and Maddy-as soon as I got to know them a little more. My anger was mostly directed at Maddy and all of her selfishness and self-centeredness. My frustration was directed at Ella for she was seemingly too "nice" and let people-even her own sister use her and take advantage of her in some ways that she could have stopped. I felt that she should have had more self respect.
I read and analyzed both of their (Ella and Maddy's) lives and their personalities and finally came up with the conclusion that they weren't the worst people in the world. I guess, with time, I also learned to care deeply for Ella and Josh, and to respect Maddy, because even if she didn't show it, she did care for her sister in one of the deepest ways possible. But that was a secret.
Of course, I was drawn in from it's strange, but unique plot line. As Ella was trying her hardest to pretend to be Maddy, I was thrown into the mind of someone who was very similar to me, trying to act and seem like one of the people of whom you said you would never associate yourself with no matter the situation. I read this book while simultaneously listening to a sad acoustic song. I was brought to years and sadness through Ella's view on herself and the love that was directed at her of which she thought was non-existent.
I read an illuminating story about a girl who would risk anything for the people around her that mattered the most in her heart and mind. A girl who would sacrifice who she is and who she believes to be, to make the people that matter the most to her happy. Even if she has to sacrifice her own happiness and her heart along the way.
With the approaching ending and the epilogue (Yes! There was an epilogue!), I was highly anticipating the big-and maybe bitter-reveal to this heartbreakingly fantastic book. And be-known to me, it was perfect and slightly sophisticated of her. I drew a line and knew that I could call
The Secrets We Keep
one of my favorite books of all time!
❝ And it will forever hold a special place in my heart. ❞