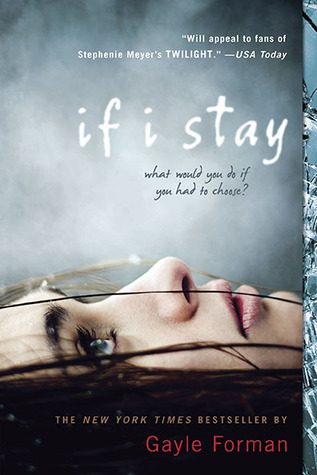 If I Stay (#1)
by Gayle Forman
publisher: Dutton Books
pages: 201
genre: Young Adult | Romance | Contemporary

published on: April 2, 2009
find on:
Goodreads / Amazon
Librarian note: an alternate cover for this edition can be found here.
Just listen, Adam says with a voice that sounds like shrapnel.
I open my eyes wide now.
I sit up as much as I can.
And I listen.
Stay, he says.
Choices. Seventeen-year-old Mia is faced with some tough ones: Stay true to her first love—music—even if it means losing her boyfriend and leaving her family and friends behind?
Then one February morning Mia goes for a drive with her family, and in an instant, everything changes. Suddenly, all the choices are gone, except one. And it's the only one that matters.
If I Stay is a heartachingly beautiful book about the power of love, the true meaning of family, and the choices we all make.
Mia.
I really liked her character because she was so talented and smart and it was really cute when she met Adam. She was really like a realistic character and I liked how she played the cello and that she enjoyed playing that instrument and it's not like her parents forced her to play the instrument. It was really interesting when she found out she liked playing the cello and that she fell in love with it immediately. I also liked that she had motivation in which school she was going to go to and what life she would want in the future.
The Parents.
I loved Mia's goofy and fun parents because they were so supportive of Mia and even though she was nothing like the both of them they still supported her all the way. I mean Mia was the complete opposite of them and it was astonishing that they didn't try to push Mia to become more like them. Her parents were like the cool and fun parents that kids dreamed of and Mia was lucky to have these both supported parents.
Adam.
I thought that his character was okay. I mean I didn't particularly like him because he was kind of selfish at some points, but I liked him more towards the end because he wasn't as selfish anymore. And it's also understandable that he was a bit selfish since he is young and he does want a successful future ahead of him or else it'd just be a waste of life.
The Plot.
I really liked how Adam and Mia met because it was just so darn cute cause c'mon really a rock boy would fall for a classical gal?! But seriously the plot was really cute and of course they had their fights since every couple does, but when something bad happened that's when they actually knew to be thankful for each other. It was still very sad for Mia since she lost almost everything she knew and loved.
The cover.
The cover is so simple yet creative. I think most covers are creative because they all show a little piece of the plot in them and it's really interesting how people create their smart covers.
thoughts? share and comment down below!