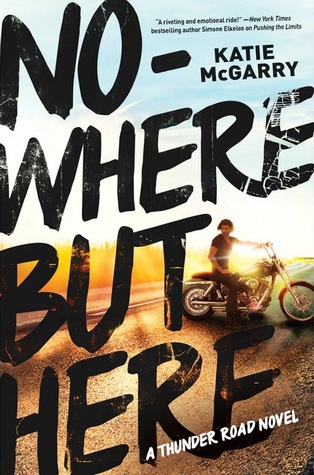 No-Where But Here (Thunder Road #1)
by Katie McGarry
Publisher:
Series: Thunder Road #1
Genres: YA, Romance, Contemporary
Publication date:
x 10
An unforgettable new series from acclaimed author Katie McGarry about taking risks, opening your heart and ending up in a place you never imagined possible.
Seventeen-year-old Emily likes her life the way it is: doting parents, good friends, good school in a safe neighborhood. Sure, she's curious about her biological father—the one who chose life in a motorcycle club, the Reign of Terror, over being a parent—but that doesn't mean she wants to be a part of his world. But when a reluctant visit turns to an extended summer vacation among relatives she never knew she had, one thing becomes clear: nothing is what it seems. Not the club, not her secret-keeping father and not Oz, a guy with suck-me-in blue eyes who can help her understand them both.
Oz wants one thing: to join the Reign of Terror. They're the good guys. They protect people. They're…family. And while Emily—the gorgeous and sheltered daughter of the club's most respected member—is in town, he's gonna prove it to her. So when her father asks him to keep her safe from a rival club with a score to settle, Oz knows it's his shot at his dream. What he doesn't count on is that Emily just might turn that dream upside down.
No one wants them to be together. But sometimes the right person is the one you least expect, and the road you fear the most is the one that leads you home.
Can I just say,
AHHHHH I LOVE THIS BOOK SO MUCH PLEASE MARRY ME!?
I WILL NOT TAKE NOW FOR AN ANSWER! I will never get this book out of my system. Katie McGarry is one of my favorite authors and I will forever love the books that she has brought into this world *bows down*.
Once again, I applaud Katie McGarry for this masterpiece. S
he has created some very lovable characters that come with an unforgettable set of stories.
Most importantly, I was NOT for one second confused about anything that was happening in the book (as this seems to happen sometimes) and it was not predictable in any sort of way.
The plot was unique, the story was RAD (yes, I used the word "rad"), the characters were everything I would love to meet in real life. There was never a second where I felt bored. This book got be completely hooked and reeled in.
I was very much in love with Em's character.
"Running is still running. It doesn't matter if it's a physical move from one place to another or if it's to within yourself."

- Katie McGarry, No-Where But Here
Em and Oz were adorable. The heart pulsing, skin sizzling, feel enduring type of adorable.
I couldn't get enough of them and I was a bit saddened when I was getting to the end of the book (but most definitely not the end of their story). Their love was powerful, endearing, and everything I wanted to read. I didn't know what I was missing out on until I picked this book up.
"I put my fingers under Emily's chin, tilting her head up.
I think that once reason I really loved this book was because I had nothing against either Oz or Em.
Their personalities didn't clash with me and I didn't feel any type of annoyance toward either or them.
Even though I didn't go through anything that the both of them have gone through I found it very easy to connect with them and see their world through their eyes.
All in all, YES, I highly recommend this book as I will never get it fully out of my system
and I will forever miss all the characters in this book that have caused me to feel every possible emotion that can be felt.
"Girls don't go for guys who do magic. If a guy relies on sad shit like that it means he's got no game."




- Katie McGarry, No-Where But Here
I can't wait until the sequel Walk the Edge (Thunder Road #2) on March 29, 2016!
tell me: did you read this book? do you want to read this book?