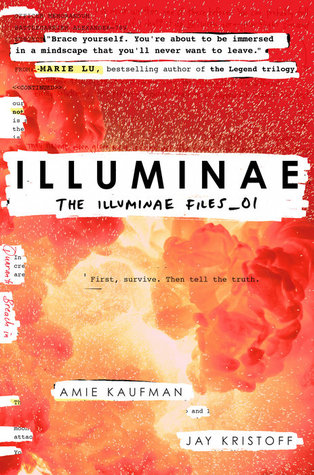 Illuminae (The Illuminae Files #1)
by Amie Kaufman & Jay Kristoff
Publisher:
Knopf Books for Young Readers
Series:
The Illuminae Files #1
Genres:
YA, Science Fiction, Romance
find this book on:
goodreads | amazon
Rating:
This morning, Kady thought breaking up with Ezra was the hardest thing she'd have to do.
This afternoon, her planet was invaded.
The year is 2575, and two rival megacorporations are at war over a planet that's little more than an ice-covered speck at the edge of the universe. Too bad nobody thought to warn the people living on it. With enemy fire raining down on them, Kady and Ezra—who are barely even talking to each other—are forced to fight their way onto an evacuating fleet, with an enemy warship in hot pursuit.
But their problems are just getting started. A deadly plague has broken out and is mutating, with terrifying results; the fleet's AI, which should be protecting them, may actually be their enemy; and nobody in charge will say what's really going on. As Kady hacks into a tangled web of data to find the truth, it's clear only one person can help her bring it all to light: the ex-boyfriend she
swore
she'd never speak to again.
Told through a fascinating dossier of hacked documents—including emails, schematics, military files, IMs, medical reports, interviews, and more—
Illuminae
is the first book in a heart-stopping, high-octane trilogy about lives interrupted, the price of truth, and the courage of everyday heroes.
---
"I am frequently underestimated. I think it's because I'm short." (quote)
I wrote down one thought while I was reading this book. That thought just happened to be "Eh it's great, but I'm hoping for more. Btw LOVE the interviews and IMs". That thought stood true for one third of the book. I loved the concept, I loved the characters, I loved the writing/style, I loved the interviews and IMs especially more, but there were parts where I felt were confusing and a bit boring.
I am very
for
a strong, kickass protagonist who knows how to hack. This plague is a very--dare I say, crappy--situation to be currently having to deal with.
One of the reasons I love this book is Kady's overall attitude about everything, this also including her personality.
It wasn't light by any means, but it was a perfect balance between determined, sassy, and brilliant. It's one of those books where I can't help but wish that these characters were actually real and I could get to know them in person.
The writing style was very original. The small details in pictures and hacked files were a beautiful touch, though sometimes an overload of objects to direct my attention to. I found myself enjoying the creativity that was put into everything.
There was a portion of this book that was told in other people's points of views, but there was a larger portion told in Aidan's point of view. Told in the point of view of the program that was trying to kill them all. The program's point of view was not the most exciting portion to read. His thoughts were very disorganized and could get boring at times, but it was interesting to get experience nonetheless as it was told originally and in a very compelling format.
Kady and Ezra's romance was one of the things I loved the most about this book.
It was sweet and adorable in more ways than one. Every interview, every IM that passed between them made me smile and erupt in feels. I could honestly FEEL the chemistry through the pages and loved every single moment shared between them.
This book was incredible and was set in this new world that you HAVE to get to know. These ships, these events, are something that shouldn't be missed out on. It's a brand new world filled with action, adventure, and just what I was expecting when I picked up Illuminae.
tell me: did you read this book? what was your favorite hacked file?