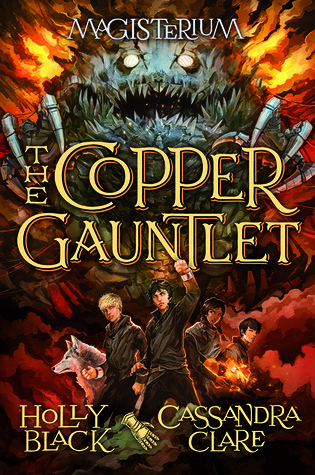 The Copper Gauntlet (#2)
by Holly Black & Cassandra Clare
publisher: Scholastic Press
pages: 304
genre: Middle Grade | Fantasy | Young Adult
published on:
September 1, 2015
find on:
Goodreads / Amazon
Callum Hunt's summer break isn't like other kids'. His closest companion is a Chaos-ridden wolf, Havoc. His father suspects him of being secretly evil. And, of course, most kids aren't heading back to the magical world of the Magisterium in the fall.
It's not easy for Call . . . and it gets even harder after he checks out his basement and discovers that his dad might be trying to destroy both him and Havoc.
Call escapes to the Magisterium -- but things only intensify there. The Alkahest -- a copper gauntlet capable of separating certain magicians from their magic -- has been stolen. And in their search to discover the culprit, Call and his friends Aaron and Tamara awaken the attention of some very dangerous foes -- and get closer to an even more dangerous truth.
As the mysteries of the Magisterium deepen and widen, bestselling authors Holly Black and Cassandra Clare take readers on an extraordinary journey through one boy's conflict -- and a whole world's fate.
Much like The Iron Trial, review right here, I couldn't really decipher whether or not I was feeling absolute love and joy for this book, or absolute adoration for this series. I couldn't get over the fact that I love Call (Callum) so much that it hurts. I love that he has this secret identity that he has to hide and I love who he is and his background.
"Don't kill her! Only maim her a little!" - Holly Black & Cassandra Clare, The Copper Gauntlet
In the Copper Gauntlet we go through this story about ho

w the
Alkahest

has been stolen and Call and his friends + Jasper, escape the Magisterium in order to find it before the wrong side discovers it first. Throughout the story, Tamara was getting on my nerves. Yes, I understand where she is coming from. Yes, I know that she thought she was doing the right thing, but that doesn't mean that I have to like it or agree with her.
I wanted to cover how much I thoroughly love the storyline and every single detail that was put into it to create this elaborate story that is all through unique and unexpected. I was happy, I was smiling, I was just overjoyed, because this book was a mix of my imagination. Not only did I feel like it was a dream come true to read about, but it made me day dream about other scenarios and other options and events that could take place next.
I guess it's safe to say that The Copper Gauntlet was even epicer (is that a word?) than The Iron Trial. (which I LOVED VERY MUCH!).
"I don't know," Call said. He was starting to worry that there weren't any good guys. Just people with longer or shorter Evil Overlord lists." - Holly Black & Cassandra Clare, The Copper Gauntlet
I'm definitely going to be sticking with this series through and through! Definitely a book that has to be read!