Hello Guys! It's Rin Here and welcome to my tour stop on A Study in Charlotte (by Brittany Cavallaro) Blog Tour. Make sure to enter the giveaway at the end of this post to win 1 of 10 finished copies of A Study in Charlotte! For more information about this tour, visit the tour page right
here
. This tour is hosted by
The Fantastic Flying Book Club
. Hope you enjoy!
---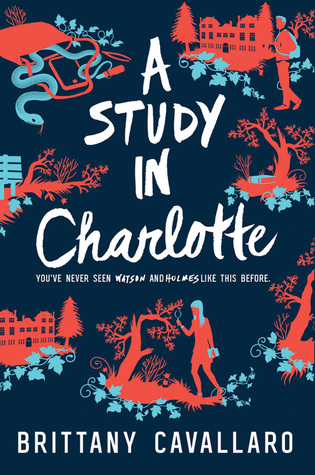 A Study in Charlotte (Charlotte Holmes #1)
by Brittany

Cavallaro
Publisher:
Katherine Tegen Books
Series: Charlotte Holmes #1
Genres: YA,

Mystery, Contemporary, Retelling, Fiction, Romance, Thriller
goodreads | amazon
Rating:
The last thing sixteen-year-old Jamie Watson–writer and great-great-grandson of the John Watson–wants is a rugby scholarship to Sherringford, a Connecticut prep school just an hour away from his estranged father. But that's not the only complication: Sherringford is also home to Charlotte Holmes, the famous detective's enigmatic, fiercely independent great-great-granddaughter, who's inherited not just his genius but also his vices, volatile temperament, and expertly hidden vulnerability. Charlotte has been the object of his fascination for as long as he can remember–but from the moment they meet, there's a tense energy between them, and they seem more destined to be rivals than anything else.
Then a Sherringford student dies under suspicious circumstances ripped straight from the most terrifying of the Holmes stories, and Jamie and Charlotte become the prime suspects. Convinced they're being framed, they must race against the police to conduct their own investigation. As danger mounts, it becomes clear that nowhere is safe and the only people they can trust are each other.
Equal parts tender, thrilling, and hilarious, A Study in Charlotte is the first in a trilogy brimming with wit and edge-of-the-seat suspense.
"Just this morning, she'd chased me from her lab, wielding her violin like a weapon. Tomorrow night we might be sharing a cell. Tonight? Tonight, I was getting punch."
I had a lot of fun with this book. I had a few good laughs and never-ending smiles as I read on about these two. A Study in Charlotte is a retelling of Sherlock Holmes and John Watson as their descendants Charlotte Holmes and Jamie Watson try to solve a murder that they are being framed for.
Both Holmes (Charlotte) and Watson (Jamie) are both great characters. I couldn't help, but love their skills at solving crimes and how great they both are at doing it--though not perfect.
Charlotte is a very complex character with so many personality traits. James had already caught my attention from the first page. Together, they are a fantastic crime solving duo as thick as thieves. In this book, we get these two unique characters who will definitely bite back with twice the intensity.
This plot had an edge to it that I really liked. It had wonderful concepts, a bit of fluff and a bit of aghast here and there. Some parts really hit a spot in my heart. The pacing wasn't too slow and moments did speed up more than others.
Charlotte's drug usage was very emphasized. It was everywhere. She had problems and as I got deeper into the book, I liked that I actually got to know her more and that she wan't just a hardcore drug user who looks a bit goth and is very antisocial. She had personality.
I am rating this book a total of 4 stars out of 5 stars, because the plot was well thought through and mysterious, the characters were snarky, and the writing flowed well creating a wonderful debut.
Brittany Cavallaro is a poet, fiction writer, and old school Sherlockian. She is the author of the poetry collection Girl-King (University of Akron) and is the recipient of a National Endowment for the Arts fellowship. She earned her BA in literature from Middlebury College and her MFA in poetry from the University of Wisconsin-Madison. Currently, she's a PhD candidate in English literature at the University of Wisconsin-Milwaukee, where she teaches creative writing, detective fiction, and lots of other things. She lives in Wisconsin with her husband, cat, and collection of deerstalker caps. Find her at her website,
brittanycavallaro.com
, or on Twitter @skippingstones.
Win (1) of (10) finished copies of A STUDY IN CHARLOTTE by Brittany Cavallaro (US ONLY)