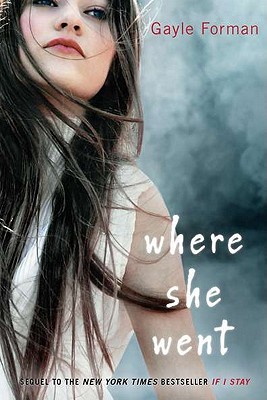 Where She Went (#2)
by Gayle Forman
Publisher: Dutton Juvenile
Series: If I Stay #2
Genres: YA, Romance, Contemporary
It's been three years since the devastating accident . . . three years since Mia walked out of Adam's life forever.
Now living on opposite coasts, Mia is Juilliard's rising star and Adam is LA tabloid fodder, thanks to his new rock star status and celebrity girlfriend. When Adam gets stuck in New York by himself, chance brings the couple together again, for one last night. As they explore the city that has become Mia's home, Adam and Mia revisit the past and open their hearts to the future - and each other.
Told from Adam's point of view in the spare, lyrical prose that defined If I Stay, Where She Went explores the devastation of grief, the promise of new hope, and the flame of rekindled romance.
Sad. I was so sad that they did not keep in touch after the car crash! I thought they would be together, I mean all that happened in the last book I expect them to still be together and happy. (I absolutely ship them! They are like one of the best couples from books for reals...) But at least luck brings them together to revisit old times for one night and to have fun....
I really loved this book series because it was so realistic and thought out, this could actually happen to someone so it was emotional to read since this scenario probably happened to someone, somewhere in the world.