[ It's Al Here!]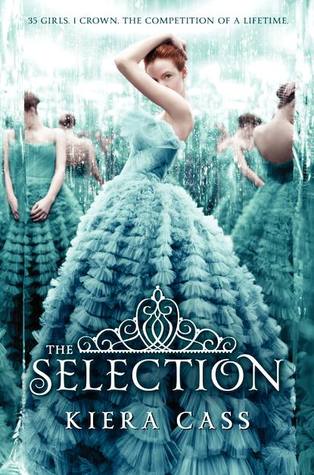 title:
The Selection (#1)
author:
Kiera Cass
genre:
Romance | Science Fiction
pages:
publisher:
Harper Teens
more:
Goodreads
For thirty-five girls, the Selection is the chance of a lifetime. The opportunity to escape the life laid out for them since birth. To be swept up in a world of glittering gowns and priceless jewels. To live in a palace and compete for the heart of gorgeous Prince Maxon.

But for America Singer, being Selected is a nightmare. It means turning her back on her secret love with Aspen, who is a caste below her. Leaving her home to enter a fierce competition for a crown she doesn't want. Living in a palace that is constantly threatened by violent rebel attacks.

Then America meets Prince Maxon. Gradually, she starts to question all the plans she's made for herself—and realizes that the life she's always dreamed of may not compare to a future she never imagined.
Interest. I was really eager to find out what was going to happen next! I loved the Selection because it made me want more after reading the first book. I was interested to find out what was going to happen next because so many things happened in one book and it was so interesting when something happened (I like the drama in books and romance). I usually don't find a lot of books so interesting that makes me wanting more but this book really caught my eye.
Love. I absolutely loved most of the characters because they had such unique and fun personalities that made me feel that these things were actually happening in real life. I especially liked America because she isn't really scared of anything and I loved how she is so brave which is great characteristic. I loved the plot as well because it's a great love story and it's so fun and interesting as well.
Angry. At some parts in the book it was just so irritating because some of the characters were a pain in the butt. They were so rude, obnoxious, crazy, and a bunch of other things I can't describe. As much as I loved America and some other characters some of the characters were actually really annoying and rude (Celeste). All in all it was a great book except for some annoying characters, but the plot was beautifully written.
Thoughts? Share and Comment Down Below!