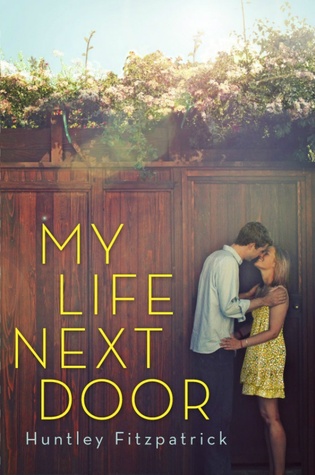 title:
My Life Next Door
author:
Huntley Fitzpatrick
publisher:
Dial Books for Younger Readers
genre:
Romance | Contemporary

more:
Goodreads
The Garretts are everything the Reeds are not. Loud, messy, affectionate. And every day from her rooftop perch, Samantha Reed wishes she was one of them . . . until one summer evening, Jase Garrett climbs up next to her and changes everything.
As the two fall fiercely for each other, stumbling through the awkwardness and awesomeness of first love, Jase's family embraces Samantha - even as she keeps him a secret from her own. Then something unthinkable happens, and the bottom drops out of Samantha's world. She's suddenly faced with an impossible decision. Which perfect family will save her? Or is it time she saved herself?
A transporting debut about family, friendship, first romance, and how to be true to one person you love without betraying another.
Excited.
I was so excited and thrilled to find out what was going to happen next because it was so interesting and romantic. I loved how they met each other and how they knew that they were meant to be! I thought that was so romantic and cute because not everyone can get true love because not everyone has true love so I really enjoyed reading this book.
Irritated.
I did not like how Samantha's mother just couldn't accept the Garretts and to me that was irritating, because she should support her daughter's choice and I was really irritated at her for the whole book. I know parents always want to protect their children but I think that her mother should really just respect her decision because she is old enough to make her life decisions.
Thoughts? Share and Comment Down Below!